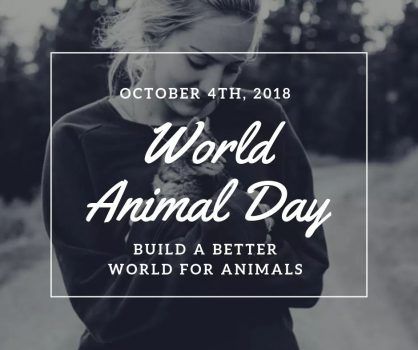 In 1925, a man named Heinrich Zimmerman organized the first World Animal Day in Berlin, Germany. Zimmerman loved animals, and wanted a special day not only to celebrate them but to bring attention to issues of animal welfare and protection. Over 5,000 people attended this first event. By 1931, World Animal Day had gained traction and became universally adopted. Today, this event is celebrated all around the world!

The mission of World Animal Day is simple, but powerful :
"To raise the status of animals, in order to improve welfare standards around the world."
On World Animal Day, Kitty City, Inc. wants to celebrate the animals in our city of Memphis, and all of the people who work hard to build a better world for them.
In the last several years, Memphis has gained forward momentum toward creating a community dedicated to the well-being of animals. Memphis Animal Services (MAS ) has made great efforts to overcome a history blighted with pain. In 2016, MAS partnered with Target Zero, an organizational mentorship program whose goal is to see U.S animal shelters reach a 0% euthanasia rate for all adoptable animals by 2025.  Kennel stats posted by the shelter show a slow but steady decrease in animal euthanasia rates, and an increase in positive outcomes, also known as the "save rate".  (You can view Target Zero's report on MAS here.)
It is no secret that a powerful key to successfully eliminating unnecessary shelter deaths is prevention of unwanted litters. In 2005, Spay Memphis opened its doors to provide access to low cost spay and neuter surgeries to animals throughout the area. Since then, they have performed over 47,000 spay and neuter surgeries, which in turn will prevent a countless number of unwanted animals from being surrendered to shelters.
And not to be forgotten, are the dozens of rescues and volunteer led groups who work to help bring these programs into the community. A rescue may pull animals from the shelters, relieving the burden and strain on shelter resources as well as saving the animal from death. Volunteers often dedicate their time to socializing and photographing adoptable animals to help spread the word about the great cats and dogs that are waiting for a forever home. Rescues and volunteers often bring resources such as food, dog houses, or bedding to animals in underserved areas of the city, or even spend parts of their day delivering fresh food and water to families of feral cats that live throughout Memphis. Still others use their voices to advocate for abused or neglected animals, or to raise funds for injured or sick animals in their care, or in order to allow those animals to stay with their families. Regardless of the different and unique ways each group or organization uses their voice, the one thing they always have in common is that those voices are always speaking for the animals.
By keeping the focus on spay and neuter, preventative care, advocacy and education, the shelters, rescues, and veterinary clinics of Memphis are paving the way to a better future.
But that path to a community where all animals live long, healthy lives and the families who love them have access to the resources needed to provide that life regardless of individual circumstances is not an easy one. The dream of a city were no animal is euthanized for time or space is not realized overnight. Working toward a world where all community cats (feral and stray cats) are protected, respected, and cared for is a never-ending job. Still, shelter staff, rescues, volunteers and good Samaritans all work tirelessly despite the trials and setbacks they may face each day.
So, on this World Animal Day, let's celebrate not only the animals we share our lives with, but all of the people and groups that work so hard to make a difference.
On World Animal Day, support those working to build a brighter future for animals.  Raise awareness not only to the issues, but to the resources available for a solution. Volunteer your time or talents to further those causes. Offer support through financial donations and by giving donations of much needed supplies.
We are stronger as a group. Let's work hard to build a better world for animals – not just on World Animal Day, but every day.
#worldanimalday2018